Los de la guitarra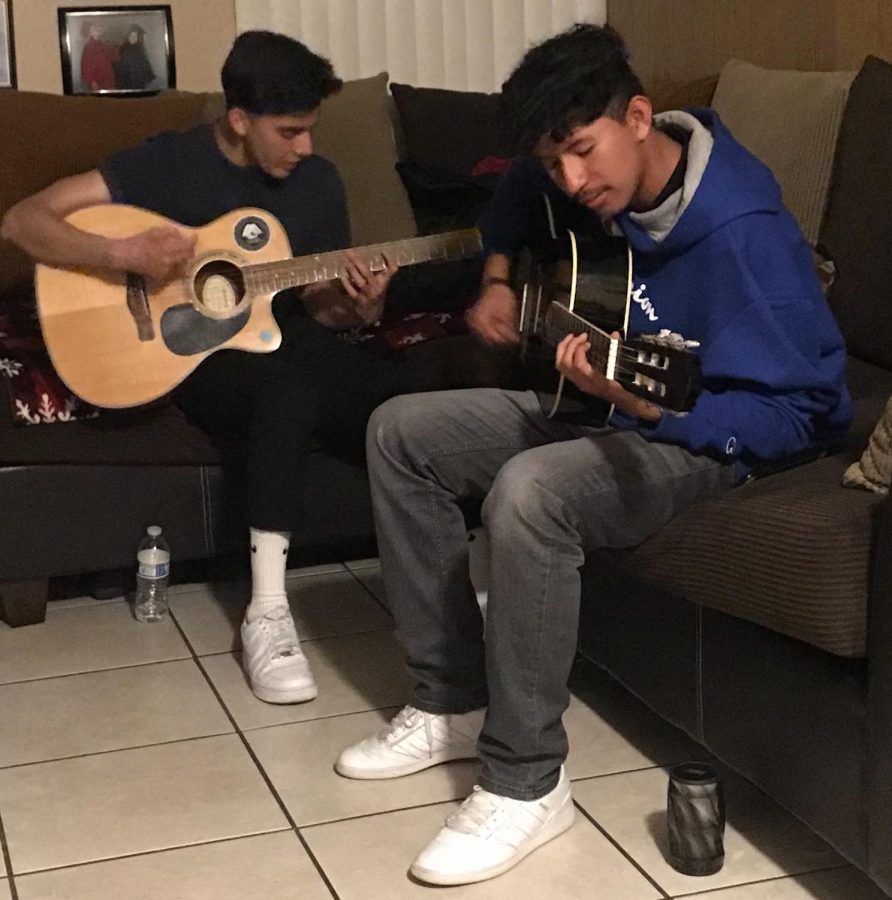 Raras veces como adolescentes ponemos atención a las cosas o a las personas, pero cuando esto sucede muchos de nosotros nos hacemos preguntas a relación a las cosas que vemos. Este es el caso  en esta escuela de Anaheim.
En unas ocasiones a la hora del almuerzo, veíamos algunos compañeros que están tocando sus guitarras, sacando alguna melodía del momento, Anaheim Exclusivo quiso saber ¿porque razones lo hacen? ¿Qué es lo que piensa la persona que toca la guitarra para otros compañeros? AE News quiso investigar más sobre porque los muchachos traen sus guitarras para tocarlas en la escuela. 
Uno de los muchachos que se pone a tocar la guitarra en la colonia fue entrevistado, también es jugador de fútbol (soccer) de nivel Varsity. Ellioth Barba (mediocampista derecho) nos dijo, "El motivo por el que toco la guitarra es por que disfruto tocar musica y me conecta con nuevas amistades. Nuevas amistades como  que les gusta también tocar música." A Ellioth le preguntamos también si le gusta hacer esto como pasatiempo o por pasión ya que también está involucrado con el futbol (soccer). "Toco la guitarra nada más por pasatiempo porque en el futuro me gustaría ser un futbolista profesional que es mi pasión."- Ellioth. Nos contó que a pesar de que quiere ser futbolista profesional, tambien le gustaria en el futuro tocar con un grupo y ganar dinero así. 
Al poco tiempo le preguntamos a otro alumno llamado Matthew Prado que también toca su guitarra durante la escuela, que por qué motivo lo hacía. Sus respuestas fueron similares a las de Ellioth, pero lo que notamos de Matthew es que él sí lo hace por pasión. "La guitarra es mi pasión, en general la música es mi pasión. Puedo expresarme con la música de muchas maneras y conectarme con personas," dijo Matthew. Luego agregó, "Me gustaría que mi futuro sea involucrado en la música."
Como verán las respuestas son muchas y muy variadas, pero lo cierto es que tocar no solo la guitarra sino cualquier instrumento musical nos ayuda a mejorar nuestro rendimiento académico, ayuda nuestra autoestima y en muchas ocasiones disminuye el estrés. Por eso compañeros, en este momento en que estamos viviendo, tiempos difíciles por la pandemia y al estar encerrados en nuestras casas podemos enfocarnos en la música para nuestro propio beneficio ya que se dice que la música es poesía para el alma.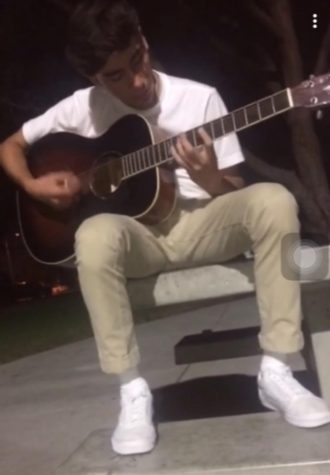 Roberto Sandoval
Matthew Prado in the middle of playing a song.