A True All-Star
Throughout the years, female athletes have been forgotten, and the attention has gone to male athletes and their sports. However, for the past three years, Victoria Bucholz has changed the narrative of only male wins in wrestling. She has worked hard and gone far. Winning 1st and 2nd places at local schools and going all the way to competing at State.
Victoria is currently a junior at Anaheim High School, graduating May of 2021, who is involved in many sports such as Cross Country, Track & Field, Judo, and Wrestling.
She has been wrestling for three years and enjoying every moment: from practice to matches and even injuries. She also enjoys spending time with her second big family, "It's like a second family like all sports are. You get used to everyone on the team, but it's also hard to watch everyone leave, especially the seniors."
With the amount of practice on weekdays from 3:30 p.m. to 6:30 p.m. comes a sense of dedication and new friendships, as a lot of their time is spent in improving and practicing techniques for future or upcoming matches.
If Victoria isn't seen in the school wrestling or training room, she will most likely be running on the track or practicing at Santana College like a true athlete practicing every moment she has with no time to waste.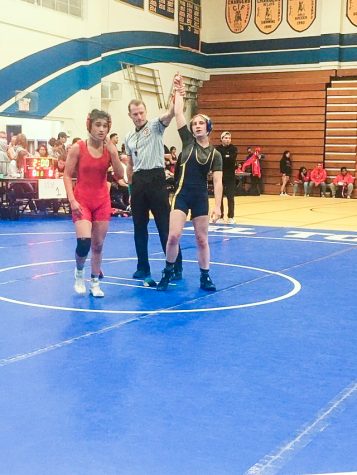 Some of her favorite components of wrestling are, "Probably the adrenaline rush that you get and because it's good for self-defense… I get excited about who I'm going to be paired up with and who I can try and beat." Victoria has learned a lot of new strategies and the joys that come along when joining a team. Along with the many fun memories that she's making, she has learned new essential things that apply to many other sports, "I've learned that grades do count a lot in this sport. If you don't have the grades, you don't get to do anything. I learned what the difference between an injury and just hurting, and I learned what it's like to have like a certain family." 
Victoria Bucholz took 1st and 2nd in many of her matches, 1st at CIF, and attended Masters along with State. "There were tough matches, but although I lost, I'm taking it harder than expected, but I know that it's just another hurdle in my life that I'm going to get over and overcome."
After having such a great season and being able to work herself all the way to State, next year's main goal is winning State and leaving a mark on Anaheim High School territory!
Although many girls have seen wrestling as a sport primarily for men Victoria has changed that and advocates for both boys and girls to get out there and try something new,
"I recommend wrestling because it gets you in shape and there's always people saying they wanna learn how to do self-defense and protect themselves, but most don't want to join because of the uniforms, but we are fixing that was getting an actual shirt a pair of shorts like everyone else it's just it's there if you need it." – Victoria Bucholz