Temblores sacuden a Puerto Rico
Hang on for a minute...we're trying to find some more stories you might like.
A finales de Diciembre y todo el mes de enero Puerto rico y su gente ha sentido más de 500 temblores, 32 fueron de magnitud de 4 y arriba afectando sus hogares y la población temiendo que ocurrirá un temblor devastador. El terremoto de magnitud más grande fue de 6.4 él siete de enero, 2020, afectando severamente a los edificios del país derrumbándose y dejando a más de 2,000 personas en albergues por la destrucción de sus hogares, un hombre de mayor edad fue hallado muerto entre los escombros, nueve personas fueron heridas, y hubo fuga de electricidad en muchas áreas. 
Un temblor ocurre debido al movimiento de las placas tectónicas debajo de la cresta de la tierra y causan una sacudida repentina y violenta del suelo causando destrucción debido a los movimientos dentro de la corteza terrestre sacudiendo todo. Esto causa que los temblores liberen olas de energía causando que se sienta como si él mundo se estuviera sacudiendo muy fuerte hacia los lados por algunos segundos. Científicos dicen que la causa de que están ocurriendo demasiados temblores es por un enjambre de terremotos, un enjambre de terremotos es la secuencia de varios terremotos en una área, Puerto Rico ha sentido una serie de 500 terremotos sacudiendo demasiado a su isla.  
Mucha gente teme que hayan mas terremotos.  Estan aterrorizados de que pudiera haber un tsunami como el 11 de octubre en 1918. La magnitud del temblor que empezó el tsunami fue de 7.3 matando a más de 100 personas. Científicos predicen que después de este enjambre de terremotos es muy posible que ocurran más grandes y con mucha más destrucción. Él director de USGS (United States Geological Survey) Jim Reilly dice que el gobierno federal ha improvisado el proceso de predecir temblores secundarios y podrían proveer más información de las posibilidades de más temblores para poder ayudar a la gente preparase antes de un desastre.
About the Writer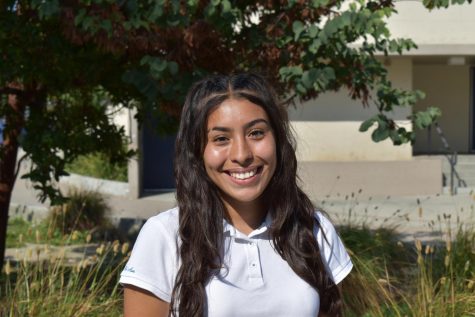 Llerliyn Magaña, Reporter
Llerliyn Magaña es una estudiante de el onceavo grado que se graduará en el año 2021, es una muchacha muy dedicada, amable, simpática y apasionada...