On November 7th, the Junior Puente class embarked on a journey. A journey up north, with the hope, of finding the potential colleges and universities which they may attend soon. Some of the Universities which these Puentistas visited in Northern California were UC Davis, Stanford, and UC Berkeley. The trip was a total of 5 college campus visits, two days, one night, a whole lot of fun, and a lot of hours on a luxury bus.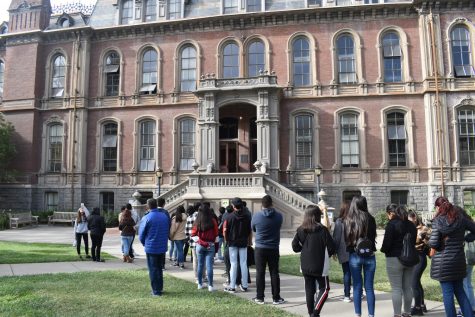 On the first day of the trip, the Puentistas visited the universities UC Santa Barbara and UC Davis. At UC Santa Barbara, the Puentistas were taken on a tour of the campus by former Puentista Daisy Avalos and also received a chance to visit the student store. UC Santa Barbara is best known for its social sciences majors and also for beautiful views of Santa Barbara beach. After a few hours driving up north, the Puentistas arrived at the second university of the day, UC Davis. At UC Davis, the group of Puentistas was greeted by another former Puentista, Princess.  Princess gave the Puentistas a tour of the incredibly large campus and finished the tour with a trip to their enormous student store. Due to UC Davis being such a large campus, it is known for its extensive usage of bicycles to get around. A fun fact about UC Davis is that the bicyclists actually have the right of way, so the pedestrians must wait for the bike lanes to be clear or for a gap to cross. 
After a night's rest at the La Quinta Inn and Suites in Wdyham Berkeley, the Puentistas woke up to a quick breakfast meal followed by a drive over to the next university, UC Berkeley. Berkeley was California's first university founded in 1868.  Once they arrived at the famous and prestigious UC, they were greeted by another former Puentista and CAL freshmen and AHS alumna Natalie Olivares. With their combined effort, they were able to provide a great tour and inform all Puentistas as to what UC Berkeley has to offer. UC Berkeley is famous for the high rankings in particular subject areas like first in Chemistry, fifth in Engineering, and second in Physics. Once the Puentistas had finished their time at UC Berkeley, they were off to the next university Cal State East Bay. There the Puentistas took a self-guided tour and visited the student store and also got a feel for a different type of university, a more quiet and smaller campus. It allowed for Puentistas to realize that not all universities they consider are huge, sometimes you need something small and cozy.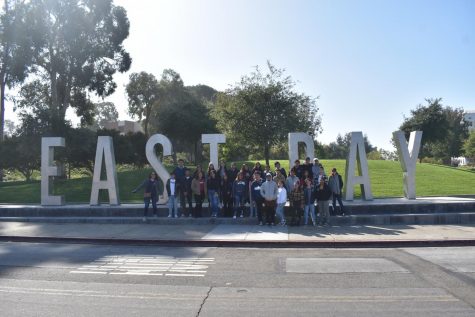 The final university visit while in Northern California was the prestigious Stanford University. There, they were allowed to explore the campus freely and really learn a lot about the famous "Harvard from the West." While at Stanford, the Puentistas had the opportunity to shop at the three-story student store before heading home. Stanford is best known for being a power school. A lot of famous and politically influential people attended the campus. Some famous alumni from Stanford are multi-billionaire and CEO of Tesla, SpaceX and the Boring Company Elon Musk, Professional Golfer Tiger Woods, and even former 35th president of the United States John F. Kennedy.
Overall, the Puentistas enjoyed their trip to Northern California. Whether it was the long bus rides to each campus or getting to walk around the campuses and potentially finding their dream schools. Puentista, Jasmine Martinez, had this to say about the trip. "Well I feel like its a really great opportunity to bond with everyone in Puente in ways I never imagined." Another Puentista, Tania Cruz, also believes the trip to be a great experience "It was honestly a great experience. I got to see and be aware of more options I have." This trip really positively impacted these Puentistas and showed them all the options they have to pursue in their futures. It even affected some more than others like Antonio Guiterrez, who said, "As a Puentista I am interested in going to college, and this experience opened my eyes. I did not only find my dream school but was able to bond with my fellow classmates. I am proud to be able to be apart of a program like Puente that grants us these opportunities that I would've never known of".