La muerte de un ídolo de la música romántica
Hang on for a minute...we're trying to find some more stories you might like.
El pasado sábado 8 de septiembre de este año, fallece el cantautor español Camilo Sesto en un hospital de Madrid en su natal España. La causa de su muerte fue un fallo renal,según informes de su representante Eduardo Guervos.
 La salud del cantautor se encontraba muy deteriorada a causa de las complicaciones renales y por lo cual este año había sido ingresado en el hospital donde sería su lugar de defunción.
"Un amor como el mío no se puede acabar ni estando lejos te olvido y no se puede quemar porque está hecho de fuego" Es una de las frases más icónicas del cantautor español Camilo Sesto que quedaron marcadas en los corazones de miles de personas quienes escuchaban sus canciones y los sumergían en el amor pero al mismo tiempo en la tristeza. 
"Me siento muy triste por el fallecimiento de camilo ya que el fue quien nos enamoró con sus letras durante nuestra juventud" nos comenta Ana Lara, la madre de un estudiante de AHS y fanática del cantautor. "Siento feo cuando se muere un artista que yo he escuchado y pues son canciones que nos motivó en aquellos tiempos" nos dice la abuelita María Clavel. Así fueron las reacciones al saber sobre el fallecimiento del cantautor español.
Una de las personas mas importantes e indiscutibles en la música de España y Latinoamérica en la época de los años 70's y 80's "Lo empecé a escuchar cuando tenía 15 años porque mi a mi hermano le gustaba su música y el se la dedicaba a su amada" nos cuenta la abuelita Maria Ester Palencia. 
El fue una persona muy privada y no se sabe mucho de su vida personal pero lo que si lo caracterizó fue su música que en aquellos tiempos enamoró a miles de personas con sus letras y que al mismo tiempo sus letras hacían llorar. Después de su muerte quedará su legado marcado en los corazones de las personas que lo escuchaban.
About the Writer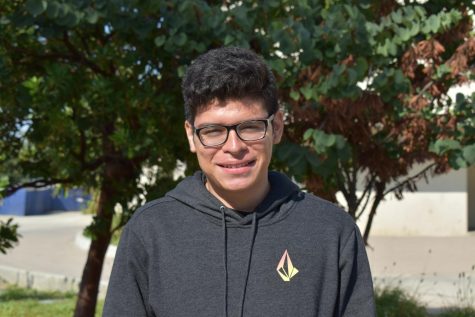 Fernando Romero, Reporter
Fernando Enrique Romero Lara was born in El Salvador and lived there until his 9th-grade year when he was presented with the opportunity to come to the...