One Life for the Two of Them
On April 24th, the musician Louis Tomlinson, posted a video on YouTube entitled "Louis Tomlinson – Two of Us (Richard's Bucket List Official Video)." In it, Tomlinson helps 83-year-old man Richard to fulfill some experiences from his bucket list.
Richard lost his wife, Pat, to Alzheimer's in December 2016, very close to the same time that Louis' own mother, Johannah Deakin, passed at age 43 after a tough battle with leukemia.
Tomlinson shared a message with his fans, followed by a link to the video where he says, "A month or so ago I met an amazing man called Richard. He had a few things he wanted to do so I thought I'd help him out. This video feels particularly relevant and powerful to me. Richard is a classic example of a fearless man who in light of tragedy still pushes himself to live with as much laughter and happiness as possible. I hope you enjoy watching this video as much as I did making it. Loads of love, Louis."
The music video is for Louis' new single, "Two Of Us", a song about his mom's passing. The song contains lyrics strongly related to Johannah, "You'll never know how much I miss you, the day that they took you, I wish it was me instead." Tomlinson has been doing his absolute best to take care of and be there for his six younger siblings since his mother's passing. He told BBC Radio 1, "Me as their big brother… if I can sing those words, it'll hopefully help them too."
The video was filmed around the same time the singer lost his younger sister, Félicité Tomlinson, the third eldest of the siblings, after a suspected cardiac arrest in her apartment. Félicité had various projects ahead of her including a book of poetry she planned to release as well as a clothing line. The unexpected death took a huge toll on the Tomlinson-Deakin family.
Throughout the video, Richard reflects on the life he had with his wife Pat and how drastically his life has changed since she passed. Richard elaborates on his time as a taxi-driver, an actor, and even a singer. "I started playing at the clubs and pubs when I was about 17 years old – I did 45 years of that and gave it up when my wife started being ill. She couldn't be left alone," he adds, "I talk to her on a regular basis, even though she's not there."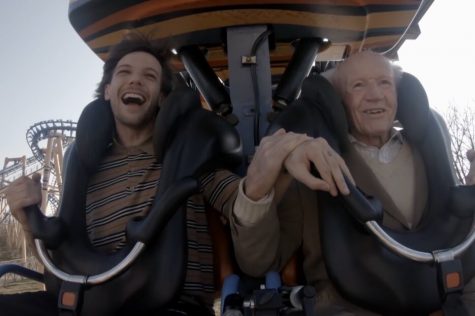 Richard's first task on his bucket list was to fly a helicopter, which he did with the help of a pilot as Louis sat in the back, smiling. Next, they both took turns driving race cars around a track. Richard dreamt of getting a tattoo, but instead, gave Louis a tattoo of his own initials on Louis' arm. The duo quickly moved onto another item off the list, riding a rollercoaster, which they do so as Louis held Richard's hand.
Pushing Richard back into the world of performing for a crowd, Louis introduced Richard to the audience of a huge arena where he stunned the audience with his performance of Andrea Bocelli's Con Te Partiro, thus concluding Richard's bucket list. As Louis sang to his own mother, Richard also sang, "I will hold you where my heart is, one life for the two of us" to his wife Pat.
At the end of the video, Louis urged fans to donate money to charities Alzheimer's Society, Cancer Research UK. and Bluebell Wood Children's Hospice.
https://www.youtube.com/watch?v=6QpwOKFkzmA