The Jonas Brothers Are Back
Hang on for a minute...we're trying to find some more stories you might like.
The trio comprised of Joe, Nick and Kevin Jonas made an announcement on Thursday morning (2/28/2019) about them reuniting. They shared the news on Instagram with an announced clip of their new song "Sucker."
After nearly six years of the sibling trio being apart, the new pop song was released that night. The band also announced an upcoming appearance on "The Late Late Show with James Corden" on their Instagram. On their statement about their approaching appearance on the show, the boys exclaimed: "We're back!" Before the announcement of their reunion, fans began to suspect their arrival. In 2018, the band's social media was randomly reactivated and many started to surmise. However, Nick quickly ended the suspicion in the 2018 Grammys when he told Ryan Seacrest that, "We hung out for a weekend all together then I guess our Instagram is restarted or reopened. But I can tell you there's no reunion planned, but I can never say never. You never know what's going to happen." Fans were then convinced that the brothers were just having a personal reunion after being apart from their busy lives.
When the song dropped on Thursday night, there was a lot of anxiety and anticipation from their fans. The Jonas Brothers music video is about being head-over-heels for their significant other. The video featured Danielle Jonas, Priyanka Chopra, and Sophie Turner. The brothers sang "I'm a sucker for you/ Any road you take you know that you'll find me," to their wives and fiancée. Throughout the music video, there are numerous avant-garde costumes for the trio and their partners. There is an Alice in Wonderland vibe during the video because of all the elaborate costumes and scenes portrayed around the castle in this piece. As the video progresses, each couple has their own time to show their emotion towards each other and to express their love. When the video comes to an end, the three couples come together as a group and an artist paints a portrait of them all.
About the Writer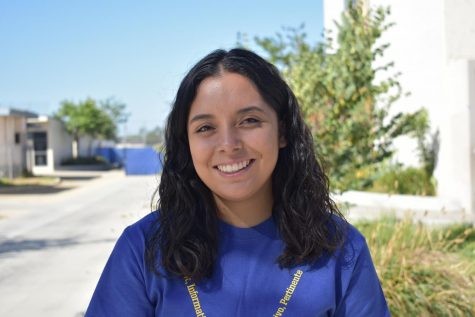 Mathilda Gonzalez, Reporter
Mathilda Gonzalez es una estudiante de Anaheim High School que está en el doceavo grado. Ella ha estado en el programa de DLA (Dual Language Academy)...