Ms. Majewski Hosts State of the Union Watch Party
Hang on for a minute...we're trying to find some more stories you might like.
On Tuesday, February 5, 2019, Ms. Majewski, a Government teacher at Anaheim High School hosted a State of the Union watch party for her students.
 At 5:30 pm, before the President delivered his speech, students gathered in the school's career center and library to enjoy Costco Pizza and refreshments. Ms. Majewski was able to accommodate about 50 students and expose them to modern day politics.
As the State of the Union was delivered, the students' analyzed and reflected on the speech. Every 15 minutes, they picked an issue that President Trump commented on, reacting to the segment. The event was successful due to a large turn- out and because students discussed the future of the nation. They were able to gain an insight into the curriculum and topics they learned in class.
In the State of the Union, President Trump invited fourteen guests who he classifies as "The Very Best of America". He invited members who, in his point of view, embody national ideals. Among his guests were:  Judah Samet, a survivor of the Holocaust and survivor of the Synagogue shooting at Pittsburg. Buzz Aldrin, 2nd man to land on the moon. Alice Johnson and many other significant figures. Not only did students witness the annual tradition of making a point through guests but they became informed on a criminal justice reform for opioids, a legal immigration system, New Trade deals, and reform to lower the price on prescription drugs.
Bryan Otero, a student in her 5th period, commented "It was really interesting and empowering for young minds to pursue a better state for our country. It also helped me realize how much change our country is in for. With so many women in Congress, it's amazing how times have changed.
Giselle De La Cruz also had commentary on the State of the Union, she said, "My favorite part of the speech was when he mentioned that there would be more funding for research to find a cure for cancer and that he realized healthcare was very expensive and must be reduced, especially the price on medication.  Essentially the way the speech was structured was smart because he began with the tough hard-hitting subjects that are very controversial, immigration and the southern border."
Overall the State of Union provided all viewers an update on the nation's situation and steps the president will take regarding the nation's future. The 82 minutes fulfilled Article II Section 3, "give to the Congress information of the State of the Union, and recommend their consideration such measures as he shall judge necessary and expedient."
About the Writer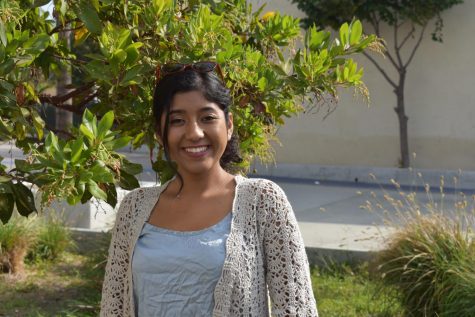 Melissa Herrera, Reporter
Melissa Herrera ha sido una estudiante dedicada en Anaheim High School. Ella ha sido parte de varios programas en la escuela como National Honor Society,...