Anaheim continua su desfile de Halloween
Hang on for a minute...we're trying to find some more stories you might like.
El sábado, 27 de diciembre, la ciudad de Anaheim celebró Halloween con un desfile. El desfile empezó a las 6 pm en la calle Broadway y los participantes marcharon por las calles West Street, Harbor Boulevard, Center Street y Anaheim Boulevard hasta llegar a Broadway de nuevo para terminar el desfile. Varios clubs de Anaheim High School fueron participantes del desfile, además de los residentes de la ciudad de Anaheim. El equipo de béisbol y las porristas de las escuela caminaron en el desfile. También marchó la banda de Anaheim High School y Brookhurst Middle School.
Los residentes de Anaheim se vistieron con diferentes disfraces. Por ejemplo, uno de los participantes se vistió como un panda. Además, muchos de los participantes crearon carrozas en su tiempo libre para manejarlo en el desfile. Unos de esos fue un carro decorado como una araña en honor del espíritu de Halloween. Lo decoraron con colores oscuros, negro y morado, y con luces brillantes.
El desfile de Halloween de la ciudad de Anaheim es una tradición que empezó el 30 de octubre del 1924. Había un estimación de 20,000 residentes entonces y la gente de las ciudades vecinas a los lados de Center Street llegabana para disfrutar del desfile. Este primer desfile duró cuarenta y cinco minutos y fue dirigido por Babe Ruth y Walter Johnson, jugadores famosos de béisbol. Ojalá, esta tradición siga por muchas décadas venideras.
About the Writer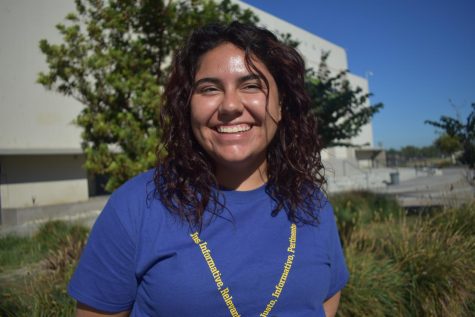 Melanie Cervantes, Reporter
Melanie Cervantes creció en Anaheim, California. Ella tiene dieciséis años y cursa su  último año en Anaheim High School. Ha sido parte del Dual...