DLA Solves a Murder Mystery
Hang on for a minute...we're trying to find some more stories you might like.
On Friday, October 26 the Dual Language Academy gathered in room 902 to participate in a bonding late evening. They practiced trust activities, solved a murder mystery, shared spooky stories, and took a tour of the supposedly haunted High School.
They began by partnering up in pairs and doing trust falls with one another.  Afterward, the DLA students all sat down in one big circle to play "Duck, Duck, Goose" or "Pato, Pato, Ganzo" as they called it in Spanish.  There were a few falls and many laughs, with people obviously enjoying their time getting together as a group
As the group played Natalie Olivares, the president of DLA, came running outside and yelled "Guys someone killed Melanie! We have to find out who it was." All of the students quickly jumped to their feet and rushed to the scene of the crime, which took place in room 902. Students were allowed to observe the "crime scene" but they could not touch any evidence, much like in a real murder. The crime scene where Melanie Cervantes, secretary of DLA,  was lying "dead" on the floor was decorated with her white shirt stained of fake blood, scissors dripping in fake blood beside her, a pearl bracelet that had been broken and scattered across the scene, and a piece of a cup.
   The students were put into 4 separate groups and they would all get a chance to go around the room, question and search possible suspects. They ended up identifying the murderer as Gilberto Salinas, Treasurer of DLA.
As groups waited for their turn to observe the crime scene, they shared spooky stories. Once the mystery was solved they took a haunted tour around the school campus. It was reported that they were welcomed into the old building by suspicious elevator activity, which convinced many that in fact our campus is haunted.
About the Contributor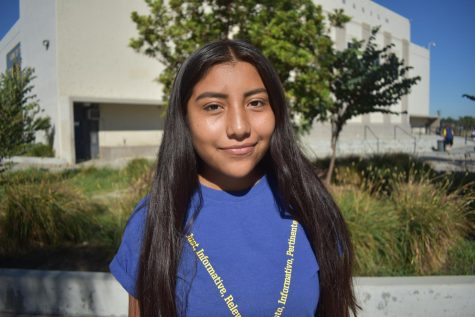 Vanessa Aniceto, Reporter
Vanessa Aniceto is a Sophomore at Anaheim High School whose first story to be published for the newspaper was in English. She mainly focuses on writing...