Ryan Ruelas es re-elegido como miembro de la junta escolar
Hang on for a minute...we're trying to find some more stories you might like.
El 12 de octubre, Ryan Ruelas nos contó los motivos que lo han animado a ser candidato para formar parte como miembro de la junta escolar. Ruelas explicó sus altibajos cuando se postuló como miembro de la junta escolar en el distrito escolar de primaria de Anaheim. Tuvo momentos muy difíciles el primer año que corrió por primera vez.
El distrito escolar de Anaheim Elementary cambió su nombre hace 3 años. "Era muy insignificante," dijo Ruelas, "y yo voté en contra porque pudieran haber usado el dinero para los estudiantes en lugar de cambiar el nombre del distrito." El ha estado en la junta desde 2014 en el área 5, una posición que lo alegra mucho. Ruelas quiere hacer lo posible por la comunidad.
Ryan trabaja en AUHSD Anaheim Union High School District, él ha sido profesor durante 15 años. Cree que todos deben tener una opinión sobre por quién votar ya que la gente contribuye a la comunidad por medio de impuestos que pagan para mantener las escuelas.
El mayor desafío que enfrentó al formar parte de la junta escolar fue recaudar dinero: los candidatos que se postulan para ser elegidos tienen que recaudar de 15 a 30 mil dólares para postularse. Él dice, "Fue un obstáculo porque no vengo de una familia rica y odio pedir dinero a las personas." Recaudo diez mil dólares la primera vez.
"En referencia al apoyo, tuve la gran fortuna de pertenecer a esta comunidad y enseñar en la escuela secundaria de Anaheim porque tengo antiguos alumnos que ahora están graduados y todos regresaron, me ayudaron y sus familias me ayudaron." Él se siente listo para la reelección de este año.
Este año Ruelas se enfrento a Shaun Dove, un candidato no partidario para miembro del Área Fiduciaria 5 de la Junta de Educación del Distrito Escolar Primario de Anaheim. El Señor Ryan Ruelas ganó exitosamente su carrera contra Shaun Dove y será miembro de la junta escolar por segunda vez.
About the Writer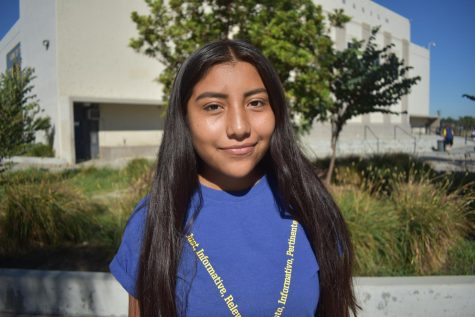 Vanessa Aniceto, Reporter
Vanessa Aniceto is a Sophomore at Anaheim High School whose first story to be published for the newspaper was in English. She mainly focuses on writing...