Ariana Grande siempre no se casa
Hang on for a minute...we're trying to find some more stories you might like.
Ariana Grande y Pete Davidson terminaron su relación después de 7 meses. Después de algunas semanas de haber sido novios, Davidson le propuso matrimonio a Grande en Junio y ella aceptó.
Sin embargo, el 16 de octubre, Grande publicó en su historia de instagram "Es hora de decir adiós al Internet por un poco. Es difícil no ver noticias y cosas que no estoy tratando de ver. Es muy triste y todos estamos tratando de seguir adelante. Los amo. Gracias por siempre estar conmigo." Con esta historia que subió en Instagram, Grande le dijo a sus seguidores que aunque está pasando por momentos difíciles por su separación con Davidson y el fallecimiento de su ex novio, ella está tratando de seguir adelante.
Estos días pasados han sido muy difíciles para Grande por la muerte de Mac Miller, su ex novio. Aunque era su ex, ambos mantuvieron una relación de amigos. Ariana siempre se preocupó por la salud de Miller y ahora que falleció, tristemente, mucha gente la han acusado por su muerte. Lo cierto es que estaba en una relación tóxica y tenía que preocuparse por su propia salud y por su propia vida.  Fue por eso que se separaron. Grande ha expresado su agradecimiento por el apoyo de su familia y fans después de que se enteró del fallecimiento de su ex.
Muchos dicen que, por lo sucedido, Grande necesitaba tiempo para ella misma y por eso termino con Davidson. Además de eso, la relación estaba avanzando muy rápido. Primero eran novios y de repente estaban comprometidos. Se dice que Ariana Grande le devolvió su anillo de compromiso de un gran valor de $93,000. Sin embargo, se quedó con la mascota, un cerdo nombrado Piggy Smallz que le regaló Davidson.
About the Writer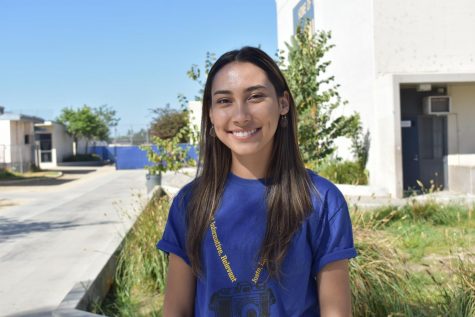 Lilibeth Moreno, Reportera
Lilibeth Moreno es estudiante de Anaheim High School está cursando el doceavo año. Ha sido parte del Dual Language Academy desde su séptimo año escolar...