La banda mantiene a AHS en alto
Hang on for a minute...we're trying to find some more stories you might like.
La banda de Anaheim High School se queda varias horas después de la escuela practicando para tener una temporada exitosa.
La banda de la escuela es conocida por su excelencia en sus presentaciones. Ha recibido varios reconocimientos y es admirada por su dedicación. Para poder mejorar y ser la mejor en el districto, ellos practican varias horas después de la escuela y en la mañana para poder perfeccionar su presentación. El anhelo de ser los mejores se puede ver en los juegos de fútbol americano durante el medio tiempo cuando demuestran sus habilidades. La audiencia es cautivada por su presentación.
El director García ha sido el director de nuestra banda por ocho años y su pasión por la música se puede ver en la forma que dirige sus estudiantes. El señor García dice que ser parte de la banda es la forma perfecta para convivir con todos los alumnos de la escuela. Estar en un programa como la banda ayuda a que los estudiantes puedan conocer personas para que los apoyen durante sus cuatro años en la preparatoria. Él nos cuenta que durante estos años trabajando, ha visto un gran esfuerzo de los estudiantes. Además, nos dice que el número de estudiantes en la banda aumenta por que se dan cuenta que cada año, la banda en particular mejora.
En los años anteriores, la banda de Anaheim High School ha recibido varios premios y reconocimientos por su excelencia en sus presentaciones. Un reconocimiento que siguen obteniendo es "unanimous superior" en el festival del distrito de Anaheim High School. Adicionalmente, el director expresa su agradecimiento por el esfuerzo que los estudiantes han puesto en sus presentaciones. Varios estudiantes están muy orgullosos de tener una banda tan talentosa y exitosa como la nuestra. Para poder darles nuestro apoyo solamente necesitamos que ir a sus presentaciones y animarlos.
About the Writer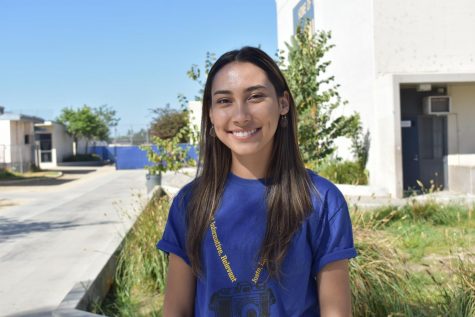 Lilibeth Moreno, Reportera
Lilibeth Moreno es estudiante de Anaheim High School está cursando el doceavo año. Ha sido parte del Dual Language Academy desde su séptimo año escolar...