40 Mexican Parents Reunite with their Children After More than a Decade
Hang on for a minute...we're trying to find some more stories you might like.
Alianza de Emigrados Jaralenses Reunites 40 Parents with their Children after at least 15 years

On Monday, September 24, 2018, the nonprofit organization Alianza de Emigrados Jaralenses was able to fly out 40 parents from Guanajuato, Mexico to Phoenix Sky Harbor International Airport. The parents were received at the airport with purple flowers as a remembrance of the special event. Immediately, the organization transferred the 40 guanajuatenses to Tradiciones Centro Cultural, a venue where their children awaited anxiously for their arrival.

After being separated from her daughter for 24 years, Esther Ojeda told us the first thing she would do when she saw her daughter was to:  "Hug her, hug her a lot, hug her, for all the years I have not seen her. I've only seen her in photos through the cell phone."

At the venue, massage therapists and psychologists prepared the elderly- both mentally and physically- for the long-awaited moment. Their mayor, Jose Alberto Vargas Franco, flew from Jaral del Progreso, Guanajuato to personally deliver the parents to their children. Moments before walking the elderly to their families,  he proclaimed:"I already have goosebumps at the idea of seeing these families reunite. I am thankful to be able to witness this. Not only this, but it was incredible to bond with many of my friends and family whom I have not seen for years. I am extremely happy to have received the elderly who have their hearts filled with hope ."
The reunited families enjoyed food, live mariachi music and a show of folklore dance.  After this reunion, the families will have 30 days together before the parents return to their homes in Mexico. However, the parents will still have the opportunity to return to the U.S in the following 10 years.  
This event was historic not only because families became reunited with their children after more than a decade, but because the Hispanic community united for a common good. People from diverse backgrounds, ethnicity and origins came together to help these families recover the warmth and love that they had not received in many years. This event was emotional and touching like Dora Zamora said, " Many people want to help because it is a human cause… This is not politics, it is human."
About the Writer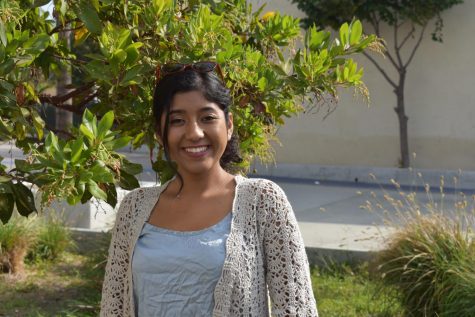 Melissa Herrera, Reporter
Melissa Herrera ha sido una estudiante dedicada en Anaheim High School. Ella ha sido parte de varios programas en la escuela como National Honor Society,...