Special Ed Renovates Teacher's Lounge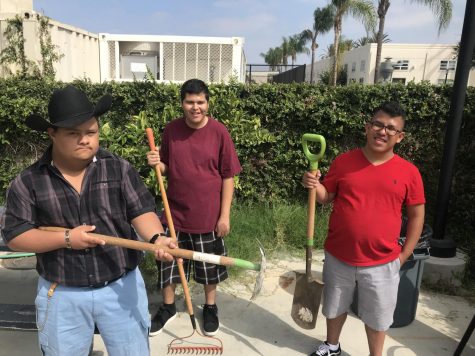 The teacher's lounge is one of the few places that our staff can share a meal and interact with one another. However, for some time now, the lounge and patio have been in need of restoration.
Anaheim High School's Special Ed Students are dedicating their time to the decoration of the teacher's lounge.  By doing so, they anticipate to provide an interactive and positive environment for our staff, "We want to raise teacher morale, so they have a nice place to come." Stated Mr. McLaughlin, Special Ed teacher.  
Our students have been working hard in the heat of the sun. Shoveling the ground cover to kill off the weeds, are a few of their favorite activities, as well as planting. As of today, they have planted lemon thyme, paprika, thyme basil, and several others. Their hope is that in the future, our culinary class, staff, and students can benefit from the herbs.
However, they are still not done yet."We are just getting started, and we are excited about this project," Mr. McLaughlin says.  He would like for everyone to know that they can participate by donating potter pots, plants, or small trees, or planting soil to room 1. You can contact him via email, [email protected]  for more information on how you can help.