Moda en la colonia
Hang on for a minute...we're trying to find some more stories you might like.
La influencia de la moda en la adolescencia y en los adultos es muy importante. No es nada novedoso decir que la mayoría de la gente desea estar a la corriente con las nuevas tendencias. En Anaheim High School se puede ver un variedad de estilos y atuendos que los estudiantes usan para expresar su identidad y sentirse seguros de sí  mismos. En la última semana salimos a la escuela y le preguntamos a los estudiantes cuáles son sus gustos, estilos y las nuevas tendencias que están por surgir.
Melissa Herrera entrevistó a Luis Sánchez, un estudiante del doceavo grado.
Melissa: ¿Te importa lo que usas?
Luis: Sí, le doy importancia a mi ropa especialmente si se que voy a conocer a nuevas personas, ya sea si voy a una fiesta, junta o hasta a la escuela.
Melissa: Ahora que se acerca el otoño, ¿cuales son unos accesorios que pueden usar los hombres para estar a la moda?
Luis: Para el otoño a mi me gusta usar lo que se conocen como 'windbreakers'. Son comodos y versatiles. Hoodies o sudaderas siempre sirven, especialmente si son colores pálidos. Chaquetas para el otoño y invierno son esenciales si quieres lucir "a la moda".
Melissa: ¿Cuáles son las marcas de ropa que más te gustan?
Luis: Aveces la marca no me importa, si me gusta, me queda bien, y luce bien lo consigo. Pero para cosas como tenis siempre me gusta usar Vans o Adidas por su estilo moderno/ casual y  son versátiles. Pero hay marcas que evidentemente sobresalen: Hollister, American Eagle, Adidas y Vans tambien.
About the Writer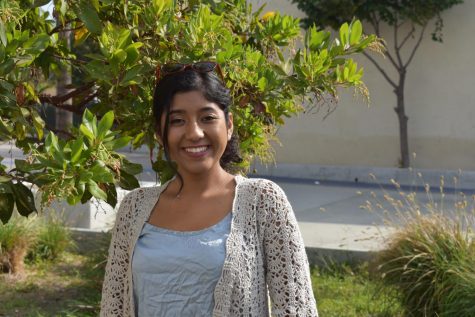 Melissa Herrera, Reporter
Melissa Herrera ha sido una estudiante dedicada en Anaheim High School. Ella ha sido parte de varios programas en la escuela como National Honor Society,...