"People Before Money" Says Kenneth Batiste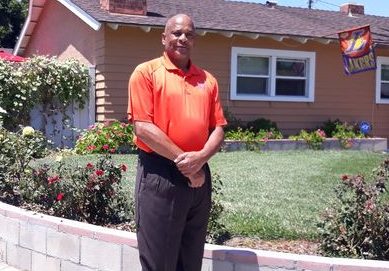 Kenneth Batiste, a Southern California resident,  is one of three who are running for city council member in Anaheim's District Five. Batiste shares his vision for the City of Anaheim.   Kenneth Batiste's repeated message was that his main concerns are people and not money. In Batiste's own words, "People before money."
 The two main goals he wants to achieve for Anaheim are giving back to those struggling by bringing in more jobs with living wages and making homes more affordable. Kenneth Batiste suggested that the 6 million dollars given to Visit Anaheim for the tourist district should have been given to the residents who needed it most. 
Rent control is an important aspect he wants to stabilize. He provides us with the example of Rancho La Paz, a 380 mobile home park for senior citizens. He explained that one of the mayor's associates purchased the park and raised the rent by about 106%. Batiste gets emotional when he talks about an 89-year-old lady who lived there. He recounted that the lady was going through stress over no longer being able to afford living there.  Batiste revealed that she later tried to commit suicide.
Kenneth Batiste says, "We gave 6.5 million dollars to "Visit Anaheim"— the Convention Center, Disneyland — we should have put that money and put it towards helping our residents—when residents are stable in their home, we have a more stable Anaheim."
 He concludes that the Angels Stadium's selling, for 150 million dollars, was a poor idea. Batiste sees it as a loss of income for the city. He put it this way, "Who owns the LA Coliseum? The City of LA does. Who owns the Rosebowl? Pasadena does. Why are we selling our stadium? We should make money."
 He wants the people of Anaheim to be more involved with their city. Kenneth Batiste considers that if the people are more involved within their city, Anaheim would be a much better, safer, and cleaner city. Batiste mentions that he would search for events to bring the people together. He suggests free concerts so that the people can come out, get together, and enjoy themselves. He wants to give back to the people and show love to the community.   
Kenneth Batiste's overall message is, "People before money." Batiste feels he understands our residents in need best. He says he is willing to do the best he can to help them. Kenneth Batiste states that he is a better candidate than Stephen Faessel, considering "Faessel is not doing what's best for the people." Batiste claims, "He's (Stephen Faessel) been part of the reason why I'm running—he's not making the votes that are best for the people."
Batiste provided us with this final message to Anaheim's residents. "My message is I care about people more than I care about money. Big corporations know that they cannot buy me. I don't care about their money. God put me in a situation where he made me more humble. I started fighting for the homeless, fighting for anti-poverty…hotel workers…things like that. If residents elect me to be their councilperson, they would be able to approach me, talk to me…all the time. If they got a problem…it would be my problem too…I would always look out for them."