Ricky Gervais at the Golden Globes
Infamous comedian Ricky Gervais hosted the 2019 Golden Globe Awards and brought his classic style of rude humor to the awards show. He is known for his work in the British version of The Office, The Invention of Lying, and Ghost Town. In a move seen as controversial, he criticized celebrities and their way of life in his speech. Although many believe his speech should only be perceived as offensive and inadequate for the event, others believe his words shed light on Hollywood's hypocrisy.
Gervais began the show by explaining how the jokes he was about to tell should not be taken seriously; after all, ̈We're all going to die soon, and there's no sequel…" After poking innocent fun at Academy award-winning actors, Robert DeNiro and Al Pacino, he continued with a joke on the molestation in the Catholic Church. He then mentioned the now deceased Jeffrey Epstein and Apple's sweatshops in China with the Apple CEO Tim Cook in attendance.
Jeffrey Epstein is a notorious American financier and convicted sex offender that had been reported having several friendly relationships throughout Hollywood. 
At the end of his speech, Ricky Gervais- specifically targeted Hollywood. He exposed how actors tend to leave out morality in their job. Several actors have joined Amazon Prime and Apple Plus, two of which are owned by companies that have received criticism.
Amazon has been criticized for its low wages.   Apple has been criticized for having sweatshops in China. He stated, ¨Well, you say your woke but the streaming services you work for in China – unbelievable. Apple, Amazon, Disney. If ISIS started a streaming service, you call your agent, wouldn't you?"
Famous actors tend to spread messages on social media to voice their opinion on certain topics. Gervais commented on this by saying,"So if you do win an award tonight, don't use it as a platform to make a political speech. You ́re in no position to lecture the public about anything. You know nothing about the world." These comments, in particular, attracted the attention of many, for they believe that Gervais has shed light on topics that are rarely spoken of in the mainstream media. 
I set up a Google Form for students to express their opinion on his speech.. 65.1% of AHS students agreed with what he said, while 34.9% were opposed to the speech. One student said, "I agree because Gervais' speech puts into light what is going on behind the scenes along with speaking the truth about these actors and directors even if it is in a rude way." While another student expressed their opposition by saying, "I disagree because he shouldn't be offending other people."
https://www.youtube.com/results?search_query=Ricky+Gervaias

About the Writer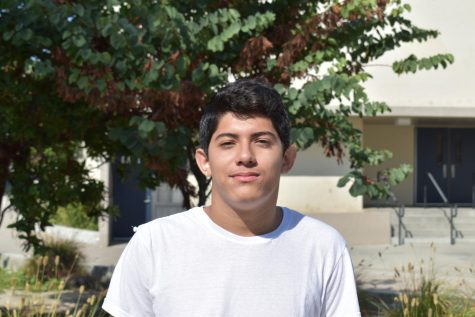 Samuel Magana, Reporter
Samuel es una persona que está muy satisfecho con quien es. Le gusta mucho jugar videojuegos y hacer ejercicio. Se considera una persona con un buen sentido...