AP Tests Are Here!
Hang on for a minute...we're trying to find some more stories you might like.
Advanced Placement season has arrived! The tests will begin next week on Monday, May 6th. If you are only taking one test or 5 or more tests, you need to prepare yourself to get a passing grade. Here are a few tips to help you prepare for your test:
Study early and study smart

Make a study schedule

Pay attention to the last study-days in class

Attend at least one mock exam

Stay hydrated

Practice FRQs and AP test questions

Ask the teacher to verify any questions you have

Focus and study

Do NOT cram
Now that you have tips to take before for your test, stay encouraged and keep preparing for the exam. Once it's your test day, just relax and believe in yourself. You might feel worried and anxious before starting the exam, but all you need to do is just take a deep breath and focus. All the studying will be worth it in the end because you know that you did your best on the test. Good luck to everyone!
Week 1 (2019)
Monday

(May 6)

Tuesday

(May 7)

Wednesday

(May 8)

Thursday

(May 9)

Friday

(May 10)

Morning (7:15 am)

United States Government and Politics

Seminar

English Literature and Composition

Chemistry

United States History

Spanish Language and Culture

Spanish Literature and Culture

Afternoon (11:30 am)

Chinese Language and Culture

Japanese Language and Culture

European History

German Language and Culture

Computer Science Principles

Environmental Science

Physics 1: Algebra-Based

French Language and Culture

Psychology

Physics 2: Algebra-Based
Week 2 (2019)
Monday

(May 13)

Tuesday

(May 14)

Wednesday

(May 15)

Thursday

(May 16)

Friday

(May 17)

Morning (7:15 am)

Biology

Calculus AB

English Language and Composition

Comparative Government and Politics

Microeconomics

Calculus BC

World History

Music Theory

Afternoon (11:30 am)

Physics C: Mechanics

Art History

Italian Language and Culture

Statistics

Computer Science A

Human Geography

Macroeconomics

Latin

Afternoon (2 pm)

Physics C: Electricity and Magnetism
About the Writer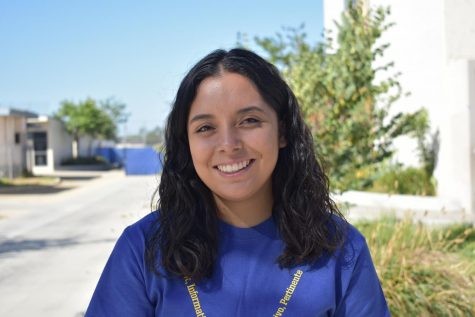 Mathilda Gonzalez, Reporter
Mathilda Gonzalez es una estudiante de Anaheim High School que está en el doceavo grado. Ella ha estado en el programa de DLA (Dual Language Academy)...