Balayage en la moda
Hang on for a minute...we're trying to find some more stories you might like.
Con la llegada de la primavera y días más calurosos, tendencias de la moda van cambiando. El calor del sol tiende a broncear la piel y aclarar el color del cabello. Se ha visto en el mundo de la moda donde la gente se tiñe usando la técnica de balayage.
Balayage es una técnica de teñir el cabello que crea la ilusión de días al aire libre en el sol de verano. Las raíces son un color oscuro y el color se aclara hacía las puntas. Diferente a la técnica de "ombre", el cambió de color es sutil. Y diferente a los rayitos rubios, balayage no empieza en las raíces, empieza a medida del oído para un efecto más natural.
Esta técnica también es menos dañina que otros métodos. Rayos rubios y ombre utilizan blanqueador y lámina de aluminio que pueden causar daño. Balayage usa blanqueador, pero no usa el aluminio. Aunque balayage también usa blanqueador, no requiere aluminio, y reduce el daño. La falta de aluminio también ayuda con el efecto natural.
El color también puede cambiar. Unas personas prefieren más rubio y otras optan por más marrón. También pueden tener tonos cálidos, frescos, o neutrales.
El proceso toma aproximadamente una hora y media a dos horas. Cuesta alrededor $180 a $200. Es más caro que los rayitos, que cuestan aproximadamente $150, pero tiene un efecto más natural y sutil.  
April Pineda, alumna del último año, nos cuenta de su experiencia. Dice que la primera vez que visitó un salón, no salió con los resultados que esperaba. Regresó meses después y pidio que le hicieran unos cambios. Ahora está contenta con su cabello. Aunque tuvo que pagar de nuevo, dice, "Es mejor estar feliz y segura con sí misma."
Antes de hacerse el proceso, es importante investigar salones y estilistas específicos. Estilistas típicamente tienen perfiles en las redes sociales donde publican fotos de los resultados de otros clientes. Se pueden buscar fotos de lo que te gusta para que el estilista lo use como referencia. Es mejor pagar un poco más y estar feliz con los resultados. Después del proceso, se deben mantener el color del cabello con otros productos.
About the Writer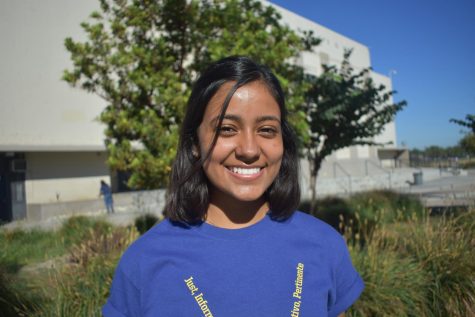 Adriana Cerda, Reporter
Adriana Cerda, nacida en Los Angeles, cursa su último año de la preparatoria en Anaheim High. Ha estado en el programa Dual Language Academy desde el...