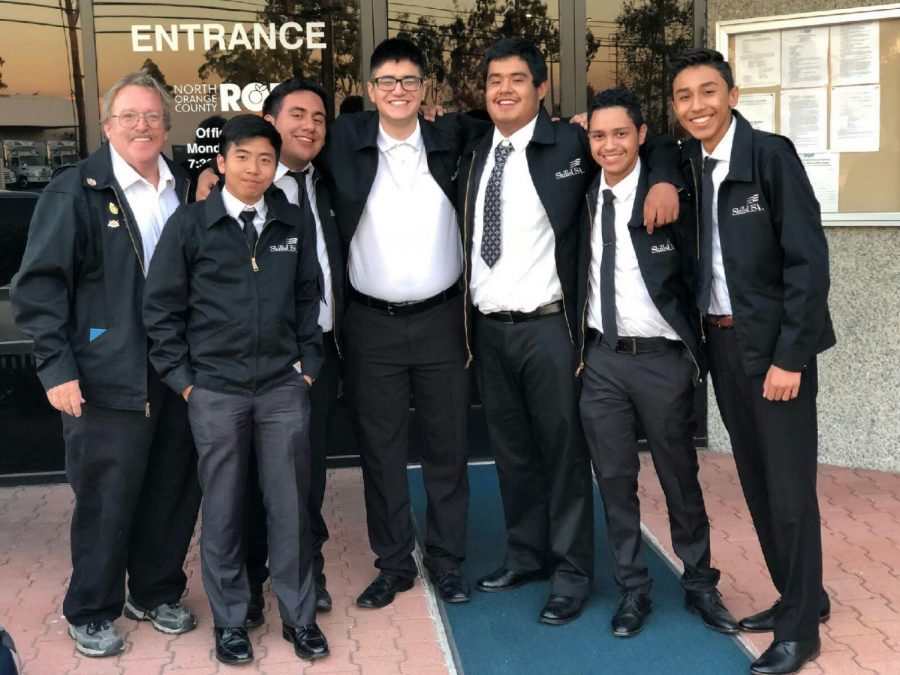 SkillsUSA is a national program offered to students from middle school to college. The program helps prepare students for careers in trade, technical, and skilled service occupations. The mission of SkillsUSA is to implement leadership and skills at a young age to have a responsible workforce in the United States.
At Anaheim High school, the Engineering teacher, Mr. Ponce, and the Dental Core teacher, Ms. Hanley, coordinate the SkillsUSA program.  Ms. Hanley, located in room 48, provides the students with a place to meet after school every other Wednesday to discuss competition and volunteering and fundraising events. She also provides the materials for the dental projects they would like to submit to the state competitions. Mr. Ponce provides the material for any projects relating to engineering and graphic design that the members would like to create. He is able to do this because he has a variety of resources such as a 3D printer. Both advisors accompany members in their STEM competitions.
The SkillsUSA program at Anaheim focuses on volunteering, career-based competitions, and networking, according to its president, Dennis Delgadillo. The program also focuses on exposing students to possible future careers they are interested in and that are available to them. Dennis Delgadillo emphasized that "everyone and anyone" may join and benefit from the program like this one. He shared that last year, he made it to the state competition for SkillsUSA and was able to stay at a hotel in Ontario for a weekend. At the competition, Dennis networked with people from all over the state with acquired skills from the program. This made him feel more independent and motivated to actually pursue a career in engineering.  
In addition, all the members from the program benefit in one way or another. For example, the secretary, Ismael Vazquez, mentioned that the program provides him with plenty of community service hours. The parliamentarian, Luis Almazan, shared that he was able to come up with creative and innovative ideas through this program. The treasurer, Leonel Cuenca, said he has been able to meet new people and develop his communication skills. Furthermore, this program is a great opportunity for the students of Anaheim High School to challenge themselves and obtain experience in the professional workforce.