Comentarios machistas marcan el primer Ballon d'Or Femenil
Hang on for a minute...we're trying to find some more stories you might like.
En el 3 de diciembre, se presentaron los premios de Ballon d'Or. Este año fue la primera vez que los premios de Balon d'Or Femeniles fueron presentados para otorgarle más reconocimiento a el fútbol femenil.  Ada Hegerberg ganó el Ballon d'Or Femenil, y Kylian Mbappe jugador del Paris Saint-Germain ganó el Ballon d'Or Sub 21. El premio femenil parecía ser un paso positivo para el fútbol, pero no duraron tanto las ilusiones de la igualdad para la comunidad deportiva.
La ganadora fue Ada Hegerberg de 23 años de Noruega. Ella juega para Olympique Lyon y ha metido 120 goles en 95 juegos. Su gran talento en el campo de fútbol fue reconocido y se convirtió en la primera jugadora femenina en ser reconocida.  
Sin embargo, este momento histórico fue manchado por un comentario machista. Después de ser reconocida, el anfitrión preguntó si ella sabía cómo Twerk.(Twerk es un baile muy provocativo y sensual.)
La reacciones de la comunidad estuvieron llenas de confusión y enojo. Nadie pensó que esos comentarios fueran apropiados. Para dar referencia, el mismo anfitrión no le preguntó a los dos hombres ganadores si ellos sabían cómo Twerk. Además de   expresar su disgusto hacia los comentarios, el público también criticó la disculpa del anfitrión por su falta de sinceridad y por intentar justificar su comportamiento.
Un aspecto positivo en esta historia es que ha quedado claro que la comunidad ya no aceptará los comentarios machistas. Ahora ya podemos esperar un mejor futuro para el fύtbol femenil y para las mujeres. Para terminar esta historia, los dejo con la palabras de Ada:  "Quiero dejar unas palabras para todas las niñas del mundo; que por favor crean en sí mismas."
About the Writer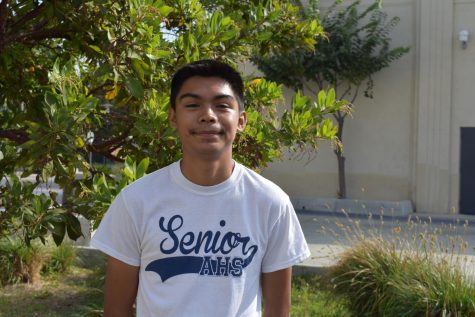 Roger Garcia, Reporter
Roger Garcia tiene 17 años. Él asiste a Anaheim High School, y está en su último año. Él es el hermano mayor en su familia y tiene dos hermanas y...