La razon por cual los latinos no votan
Hang on for a minute...we're trying to find some more stories you might like.
Las elecciones fueron el 6 de noviembre y se nota la falta de participación de los latinos. Una razón por que esto sucede es que no están informados sobre las proposiciones ni los candidatos para poder votar.   
La gente no se da cuenta de la importancia de votar por nuestro alcalde, representantes, y  posiciones en las oficinas federales, estatales y locales. El pueblo tuvo que luchar para que se le permitiera a las minorías y mujeres la oportunidad de votar y hacer oír su voz. Esta generación toma su voto por hecho. La gente dice "¿Por qué debería votar si mi voto no cuenta?" Muchas personas tienen la idea de que su voto no cuenta, pero si nadie votara, ¿cómo serían nuestras leyes, representantes y quien sería el alcalde, los congresistas y las congresistas? Es nuestro deber como ciudadanos votar por nuestras leyes y votar por los candidatos que nos van a representar en el país.
La población hispana y latina es el segundo grupo étnico más grande en los Estados Unidos;  esto significa que los latinos constituyen una proporción mayoritaria de la población de los Estados Unidos. A medida que pasan los años, el número de votantes hispanos elegibles aumenta. Desde 2014, 4 millones de hispanos adicionales se han convertido en votantes elegibles, lo que significa que debería haber una mayor participación de votantes, pero no ha habido un aumento en la participación de latinos. "En 2014, la tasa de participación entre los votantes elegibles latinos se redujo a un mínimo histórico del 27.0%" [1].
Joese Gloria, un activista, nos contó que múltiples de veces los Latinos le pidieron algo a  cambio de su voto para su candidato. Esto es completamente ilegal, pero una práctica muy común en latinoamérica donde los candidatos dan canastas de comida, televisores, y hasta tarjetas de regalo a cambio del voto de la persona.  Gloria cuenta sobre un dia que fue de campaña, cuando llegó a una casa de un latino para hablarle sobre su candidato la persona le contesto, "Yo si lo apoyo pero mochate." Esto significa que el quería que le diera dinero o una dispensa en cambio por de su voto. Esta es la razón por cual muchos latinos no quieren votar; porque están acostumbrados a recibir algo a cambio de su voto ya que crecieron viendo como los partidos en México compran sus votos.
Muchas veces los latinos vienen de países donde la democracia no existe y por eso los latinos deciden no votar en los Estados Unidos. Otra razón por cual los Latinos no votan es porque hay mucha corrupción en su gobierno y piensan que es igual en los Estados Unidos.
Votar en los Estados Unidos es una oportunidada para poder alzar nuestras voces. Tenemos que tomar esta oportunidad de elegir a los candidatos que nos van a ayudar en el futuro. En la elección presidencial del 2016 muchos latinos fallaron en ir a votar y ahora tenemos un presidente que hace comentarios y pólizas racistas hacia los latinos. Si queremos candidatos justos que nos representen, necesitamos unirnos e ir a votar.
About the Writer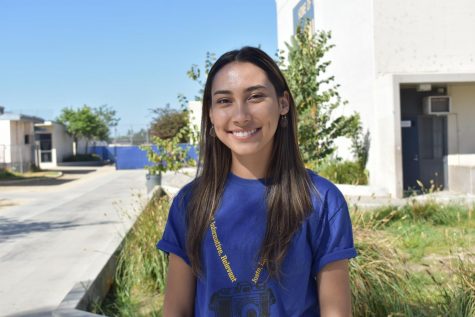 Lilibeth Moreno, Reportera
Lilibeth Moreno es estudiante de Anaheim High School está cursando el doceavo año. Ha sido parte del Dual Language Academy desde su séptimo año escolar...