Dope Dennis Speaks About His Music
Hang on for a minute...we're trying to find some more stories you might like.
On Friday, October 19, Anaheim Exclusivo was given the opportunity to interview Dennis Delgadillo, also known as Dope Dennis. Dennis Delgadillo is a senior here at Anaheim High School who makes music "for relatable people." He began his music career early on in his sophomore year of high school after feeling that no music was relatable to him and his life.
After struggling through a breakup, Delgadillo turned to music. After realizing no rap songs expressed his own feelings, he decided to make his own music. He said that by writing his songs, he is able to express his emotions. Around the time of his breakup, his most popular single "Roll Out, Daniel," was released. Delgadillo expressed that his goal for his music is not to rap about money, respectable women, and drugs like other rap songs and artists, but to tell a relatable story that other teens can experience with him. He wants the story of teen struggles like having a crush, going through a breakup, and just having a fun time to be expressed in his music.
During the second week of October, his video on voting registration was featured on the announcements. His rap was performed with his partner Jonathan Montejo, who helped him rap about getting out to register to vote and citizens using their voice. Delgadillo thought it was "really cool" to see his video on the announcements. He was very proud of it and expressed he was even prouder when Ms. Chaudry complimented him on his video, who expressed her own love for the rap genre.
Delgadillo has a YouTube channel under the name "Dope Dennis," featuring four music videos, each ranging between 100 to 900 views. His first song "Roll Out Daniel" has over 900 views. Delgadillo shared that his own favorite song is "Daydream," in which he shared his close friend's story on being in love with a girl and trying to talk to her. He shared that he will be releasing new music very soon, but said to check out his new song released the last two weeks in the meantime. You can check his music out on his YouTube channel "Dope Dennis" and follow him on Instagram too.
About the Contributor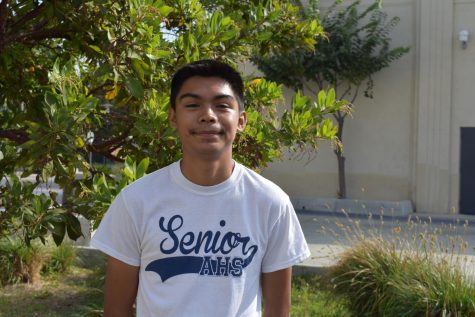 Roger Garcia, Reporter
Roger Garcia tiene 17 años. Él asiste a Anaheim High School, y está en su último año. Él es el hermano mayor en su familia y tiene dos hermanas y...