Un juego de concientizar cáncer de mama
Hang on for a minute...we're trying to find some more stories you might like.
En la escuela Anaheim, el 5 de octubre, hubo un juego de voleibol para el equipo de mujeres. El equipo de Century llegó a Anaheim y empezó a practicar para el juego. Los tres niveles de voleibol en Anaheim resaltaron al no ponerse sus jerseys regulares azules. Para apoyar el mes de conciencia de cáncer de mama sus jerseys fueron de diferentes tonos rosados.
Los equipos empezaron sus juegos después de clases y los niñas de Frosh jugaron primero. De los tres niveles, Frosh fueron las únicas que ganaron su juego contra Century. Ese nivel de voleibol solo jugó dos sets porque el equipo de Anaheim ganó los dos juegos. Las muchachas tuvieron la comunicación necesaria para ganar y trabajar juntas.
A pesar de que ganó Frosh, los otros dos niveles de voleibol, Junior Varsity y Varsity no ganaron el número suficiente de sets. Un miembro del equipo de Junior Varsity, Andrea González, dijo,"Definitivamente nos faltó la comunicación y poder trabajar juntas para golpear el voleibol sobre la red y ganar un punto. Al final estuvimos enojadas con nosotras mismas y estuvimos molestas las unas con las otras y eso es algo en lo que podemos mejorar".
About the Contributor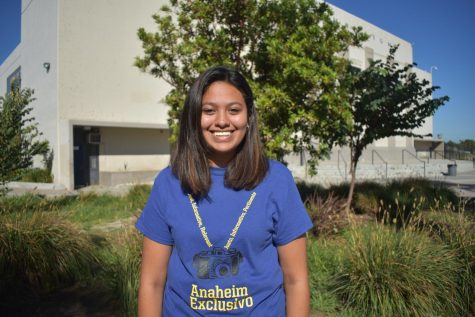 Gabriela Gonzalez, Reporter
Gabriela Gonzalez is a senior at Anaheim High School. She is seventeen years old and is involved in the Puente and Gold clubs at Anaheim High. She has...