Una carta al presidente: todos queremos una oportunidad para sobrevivir
Hang on for a minute...we're trying to find some more stories you might like.
Señor Presidente Trump:
El día de ayer leí un tweet suyo acerca de la caravana hondureña que decía:
Los Estados Unidos ha informado fuertemente al Presidente de Honduras que si la caravana grande de gente rumbo a E.E.U.U. no es detenida y devuelta a Honduras, no más dinero o ayuda se le dará a Honduras, ¡efectivo inmediatamente!
– @realDonaldTrump
The United States has strongly informed the President of Honduras that if the large Caravan of people heading to the U.S. is not stopped and brought back to Honduras, no more money or aid will be given to Honduras, effective immediately!
– @realDonald Trump
Para ser jefe del país que se enorgullece en presumir el Sueño Americano, usted se ha comportado de una manera injusta e ignorante hacia los individuos hondureños que vienen en esa caravana. Esas personas viajan con un deseo de sobrevivir los horrores de su país, son niños y jóvenes con sueños y aspiraciones para una vida mejor en este país.
Yo estoy tan consciente como usted sobre las leyes migratorias de este país, pero estoy igualmente informada sobre la injusticia que usted amenaza con cometer. ¿Usted está consciente de lo que sucederá con el país de Honduras cuando les niegue ayuda economica? Honduras ocupa el primer lugar entre los países de América Latina con altos índices de pobreza con un 67.4%, según la Comisión Económica Para América Latina y el Caribe (CEPAL).
Yo, siendo hija de padres mexicanos, he sido testigo de cómo han discriminado a nuestra Latinoamerica, y me parece muy injusto que usted intente perjudicar a gente de otros países latinoamericanos. Sus insultos hacia la gente que desea vivir con dignidad no parecen tener fin. Sus acciones han valido mas que mil palabras, pero aun así las palabras que usted dice son llenas de odio y prejuicio.
Siento el deber moral de comentar sobre este tema importante ya que he visto con mis propios ojos la pobreza y necesidad que tienen las personas de diferentes nacionalidades. Con esto me refiero a las devastadoras imágenes que he visto en la frontera méxico-americana; hay gente enferma, niños pidiendo dinero, ancianos débiles y hambrientos necesitando ayuda. No me puedo imaginar las condiciones en las que viven los hondureños, ni mucho menos las condiciones en las que viajan. Es inhumano negarle la entrada a más de dos mil personas que están necesitadas de apoyo gubernamental.
Usted nunca sabrá lo que es necesitar estabilidad dentro de su propio país.
Usted ha tenido el lujo de nacer y crecer en un país que todo lo puede con oportunidades infinitas, pero estas personas han sufrido de inestabilidad en su país y solamente desean una vida tranquila.
Según ABC News, E.E.U.U. ha designado $65.7 millones de dólares para ayuda a Honduras, principalmente a través del Departamento Estatal y la Agencia Estadounidense para Desarrollo Internacional [1]. Un tercio de ese dinero fue designado para fortalecer la democracia del país, los derechos humanos, y su gobierno. Otro tercio de ese dinero era designado para el mejoramiento económico, y el resto del dinero era para la educación, servicios sociales, el medioambiente, y la seguridad. Señor Trump, es precisamente este tipo de ayuda que necesita permanecer en Honduras para prevenir futuras caravanas. Al remover usted este apoyo, está prácticamente dando la bienvenida a más inmigrantes.
Dicho esto, no deseo alterar al público con mi opinión, sino que mi meta es informar que esto es una injusticia. Todos debemos ser conscientes de lo que sucede. Yo solo soy una reportera méxico-americana con un deseo de crear impacto a través del uso de mis palabras, pero creo que más personas deberían igualmente tomar acción.
Firmada,
Angela Gonzalez
[1] PorLibertad Digital. "CEPAL: 'Honduras Es El País Más Pobres De América Latina.'" , 26 Apr. 2018.
About the Writer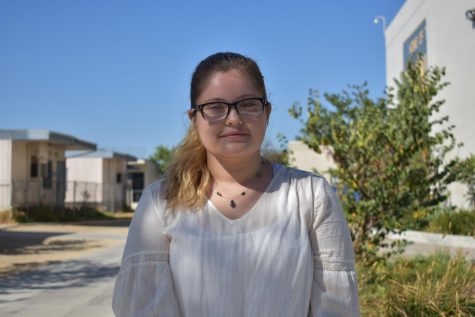 Angela Gonzalez, Reporter, Editor
Angela Gonzalez is a senior at Anaheim High School. She is a bilingual reporter and editor in Spanish. She has been enrolled in the Dual Language Academy...